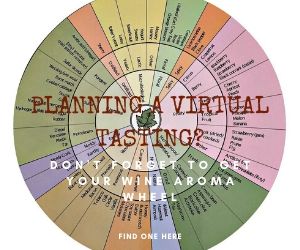 What is the Wine Aroma Wheel? 
The Wine Aroma Wheel is an incredible tool to learn about wines and enhance one's ability to describe the complexity of flavor in red and white wines.
Initially, most people can't recognize or describe aromas so the purpose of the wheel is to provide terms to describe wine aromas.
The wheel has very general terms located in the center (e.g. fruity or spicy), going to the most specific terms in the outer tier (such as strawberry or clove). These terms are NOT the only words that can be used to describe wines, but represent ones that are most often encountered.
Easy to use and understand, it will enhance your whole wine experience.
"A person with increasing knowledge and sensory education
may derive infinite enjoyment from Wine."
Ernest Hemingway
READ Reviews from verified buyers of the Wine Aroma Wheel.
---
Jul 04, 20 01:00 PM

Summer is finally here in this part of the world. 
As the weather warms up, articles on wine temperature are flourishing in the media.  To name a few headlines I read recently:

How cold should I serve a…

Jun 20, 20 04:00 PM

I love Riesling wines, but not so much the petrol smell that sometimes develops with cellaring the bottles. Contrarily to unusual wine aromas, such as corked taint, the petrol smell is inherent from t…

Jun 12, 20 11:00 AM

While tasting a corked wine is a rare event nowadays, it still happens. Learn how to detect this off-flavor and what to do with the faulty bottle.