Dec 26, 2020
Discover the flavor nuances of sparkling wines so you can choose the right one for closing 2020 with sparkles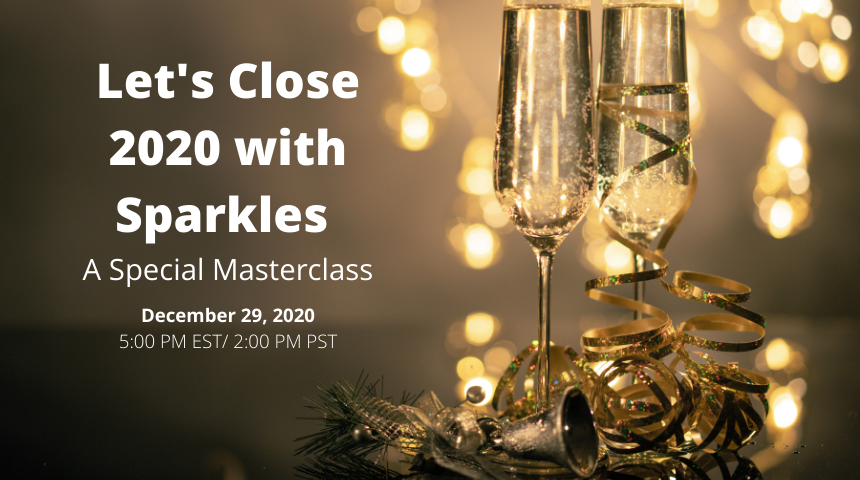 So let's celebrated the close of 2020 with some sparkles!
I am very excited to announce and host a Live Masterclass on December 29th at 5:00 PM EST to share what I learned over the years on sparkling wines.
Champagne and sparkling wines are associated with joy and celebrations.
As you may know, I am a native of the Champagne wine region in France and a bubbly lover.
My parents always had a bottle of Champagne in the fridge. It was the way people in Champagne were, popping the cork when friends were visiting, for a family reunion, and of course for the New Year.
But there are many sparkling wines around the world: Champagne, Cava, Prosecco, etc.They are all sparkling but have different aromatic profiles that you may like or not fancy at all.
The masterclass will be a two-hour training, including a guided tasting and a live Q&A session.
You will get a copy of the materials shared during the live session. And if you attend LIVE, you will get a bonus resource describing the typical sparkling wine aroma, origin, and recipes to create homemade aroma standards.
At the end of the training, you will feel knowledgeable and comfortable navigating the sparkling wine aisle and describing all the sensations you perceive when tasting a glass of sparkling wine.
The question is: Will you join me?
Continue reading "Discover the flavor nuances of sparkling wines so you can choose the right one for closing 2020 with sparkles"